Eagle
EAGLE AREA INFORMATION
SELECT AN AREA: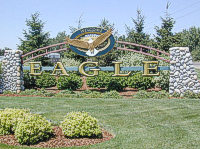 Welcome to Eagle
Eagle is located 10 miles west of downtown Boise in Ada County, between the Boise River and the Boise foothills. From its roots as a small farming community in the late 1800s, Eagle grew slowly to a community of 2,500 in 1990. By 2003, the population was estimated at 14,000!
In response to this growth, the city of Eagle has acknowledged that its primary function is to serve as a bedroom community to Boise and other Treasure Valley employment centers, and is working to assure that it is a desirable place to live and raise a family.
Rural and Urban Living
Some Eagle residents have coined the term "rurban" to characterize their city as a community maintaining its rural charm in the increasingly urban setting of Ada County. They might be surprised to learn how closely that fits the vision of the early 20th century developers of the Interurban streetcar line. By providing public transportation to Ustick, Meridian, Star, Middleton, Caldwell, Nampa, and Eagle, they hoped to provide residents a taste of country life with easy access to urban work centers.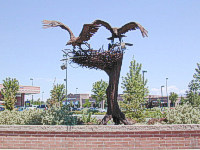 Downtown Eagle
The streetcar line is no more, but the city of Eagle maintains its rural appeal, with plenty of open space, a Western architectural theme, tree-lined streets, and plenty of parks. In addition to four existing and two planned parks, Eagle Island State Park at the city's western edge provides another 500 acres of riding trails and recreational opportunities.